Custom Home Builders Guelph
With our expertise as custom home builders, at Anthony Homes, we bring your vision to life with excellence. We proudly serve Guelph- call us. Call us at 519-546-4642
Experienced
Custom Home

Builders

When it comes to building your dream home in Guelph, Anthony Homes is the name to trust. .

We work closely with our clients, transforming ideas into a stunning reality. From the layout and design to the selection of premium materials, we ensure every aspect of your custom home is thoughtfully curated. With a focus on delivering exceptional quality and unmatched attention to detail, we strive to exceed your expectations and create a home that reflects your unique personality and lifestyle.

Let us be your partner in building the home you've always envisioned – we also specialize in basement remodeling and home additions.
Focused on delivering excellence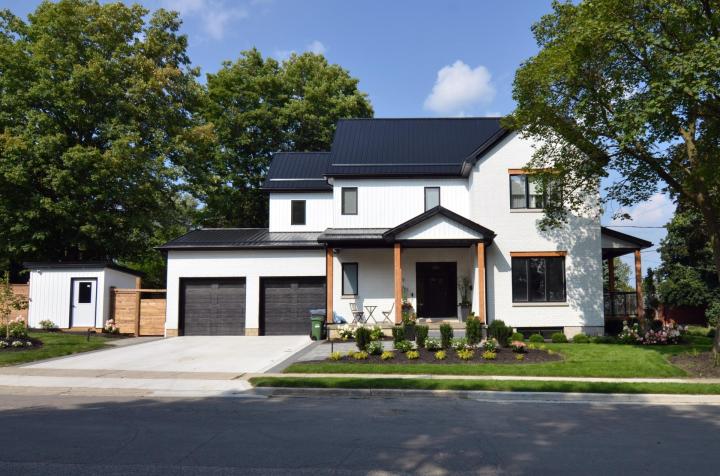 Our Services
Home Renovation
Custom Homes
Basement Remodelling
Home Additions
Our Guarantees
A Committed and Skilled Team
High-Quality Craft
Free Estimates
Exceptional Customer Service
We Serve
Guelph and surrounding areas
Our Five-Step Process to
Custom Construction
Our process has been built over decades of industry experience and takes into consideration all of the intricacies of custom construction projects. The process can be broken down into five phases. Depending on the size and scope of the project, each phase can vary in length.
1. Conception
With any project, the first step is merely to begin. This may sound simple, but it is usually far from it. It's easy to come into a project with an idea but translating that idea into actionable items requires a dedicated team. At Anthony Homes, communication with the homeowner is of utmost importance to ensure all details are discussed and your vision is understood.
2. Planning
The planning stage sets the foundation of the entire project. At this step, we take your vision and work through the details to create a concrete plan. We prepare a proposal for your project that outlines scope of work, cost and timeline. The scope of work is detailed to clarify all that is included, from demolition to finishes. During this phase we select all finishes, from flooring to lighting, to ensure availability and prevent delays to the construction timeline. We work to minimize surprises and clarify expectation to ensure a smooth process.
3. Implementation
Time for the most exciting phase of the process – the project implementation. You're starting to see all this planning come to life! We work closely with our homeowners to ensure they are informed of the progress, answering all questions that may arise and making necessary adjustments as needed. All care is taken during this process as you have us in your home. We take great pride in our work and are excited to execute your vision.
4. Completion
Upon completion of your project, we'll do a walk-through with you to ensure all specifications and goals have been met. We'll also show you how any new features work and discuss warranty maintenance.
5. Follow up
You're not rid of us yet! We'll be following up with you over the course of the next month to make sure things are running smoothly. If you have any questions following our follow-up, you're always welcome to give us a call. Even if you don't have a question, we'll pick up and be happy to hear from you.
You can always trust Anthony Homes to deliver an incredible custom construction experience. Call us today!